Certification of Validas Tool Qualification Process
The Validas Tool Qualification Process
has been certified by TÜV SÜD
TÜV certificate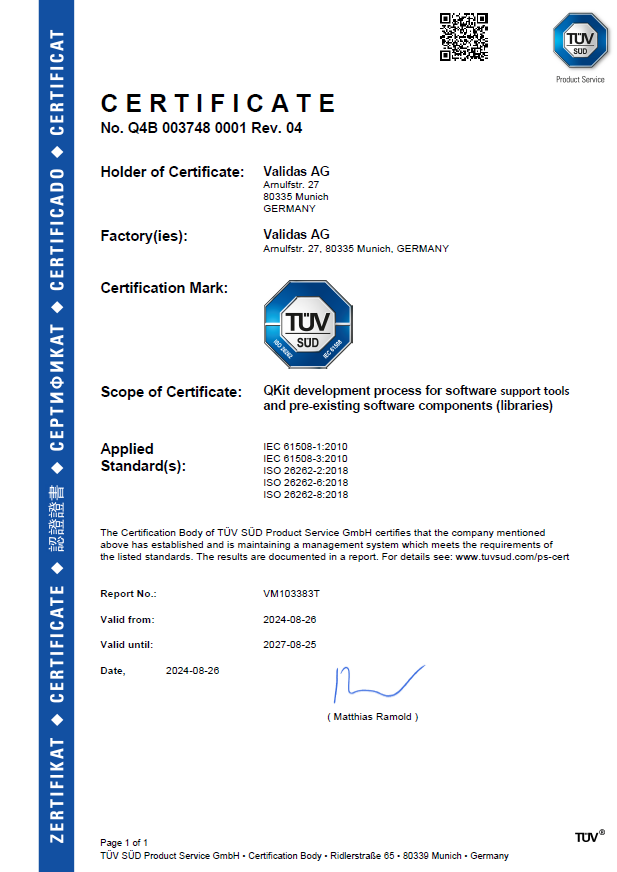 The Validas Tool qualification process is based on the Validas Qualification Methodology and uses a model-based framework with which the qualification kit (QKit) can be easily and systematically created. Thus, concentration on the essential points of tool qualification listed below are important:
Specification of the features and use cases of the tools
Determination and systematic analysis of possible errors using an error model
Determination of an appropriate qualification and test strategy
The framework includes generic compliance reports that demonstrate compliance with essential security standards (including ISO 26262, IEC 61508, EN 50128, DO-178b). The compliance of the specific QKits are ensured if they are successfully verified and validated.
The Validas tool qualification process has been successfully certified by TÜV, which means customers who use such a developed QKit of Validas, can now be assured that its usage in their project is qualified and if necessary, can also be certified.
We guarantee it!